We have
such
an amazing for release for you this week. Behold,
a simplified enter world experience on both desktop and mobile
. You'll find less steps, fields, and clicks to enter a world, and a dancing Topi while the world is loading. Also, check out a historical list of guests who entered your world on the
new "Guests" analytics page in Account Dashboard
. If you happen to go to a page that doesn't exist, our
refreshed "this page does not exist" content
will help you get back to your Dashboard with ease.
🚪Simplified enter world experience
For
returning users
, there's now a
single screen to review video and audio preferences
, Sign In, and enter personal information prior to entering the world.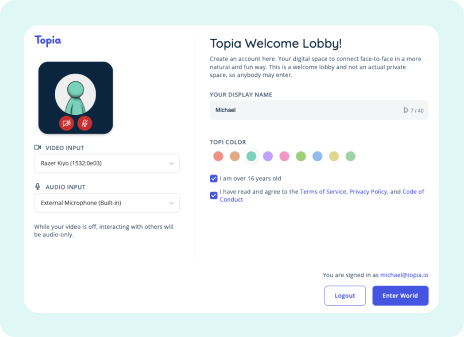 First-time users
will have the same entry experience, except
granting video and audio permissions happens after the world is entered
. A tooltip displays next to the self video feed, which teaches new users know how to turn on video and audio for the first time.
We
simplified the mobile enter world experience
to
reduce the amount of scrolling
.
Lastly, there's a
new world loading screen
with a larger world image and a dancing Topi. What's not to love?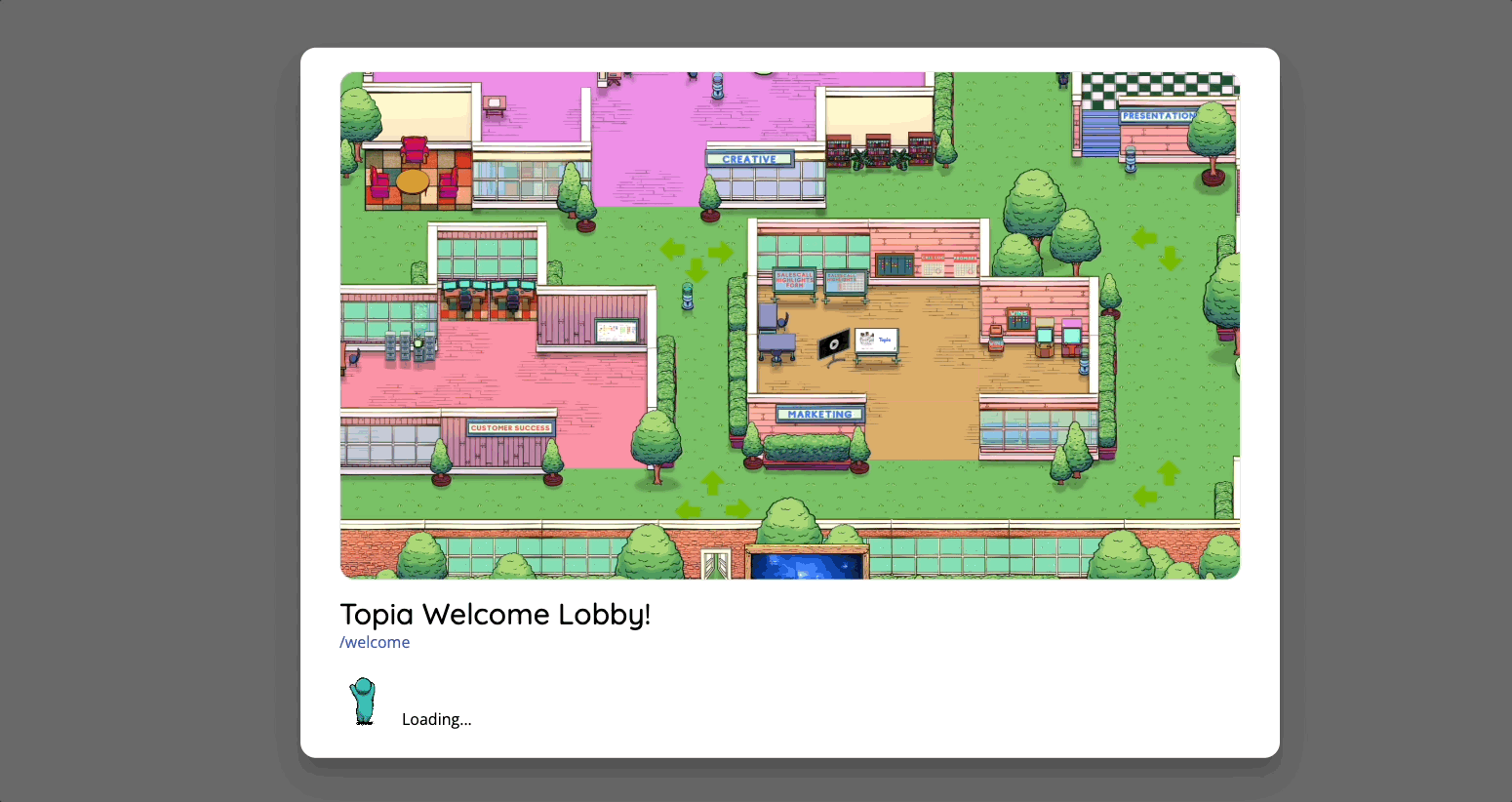 👋 Guests page in Dashboard
Yes, a historical list of guests that entered your world is no longer lost to the sands of time⏳. Find it now on the new "Guests" page in your world's analytics. Once there, you'll see the display name of each guest that entered and how many times they visited during the date range you specify.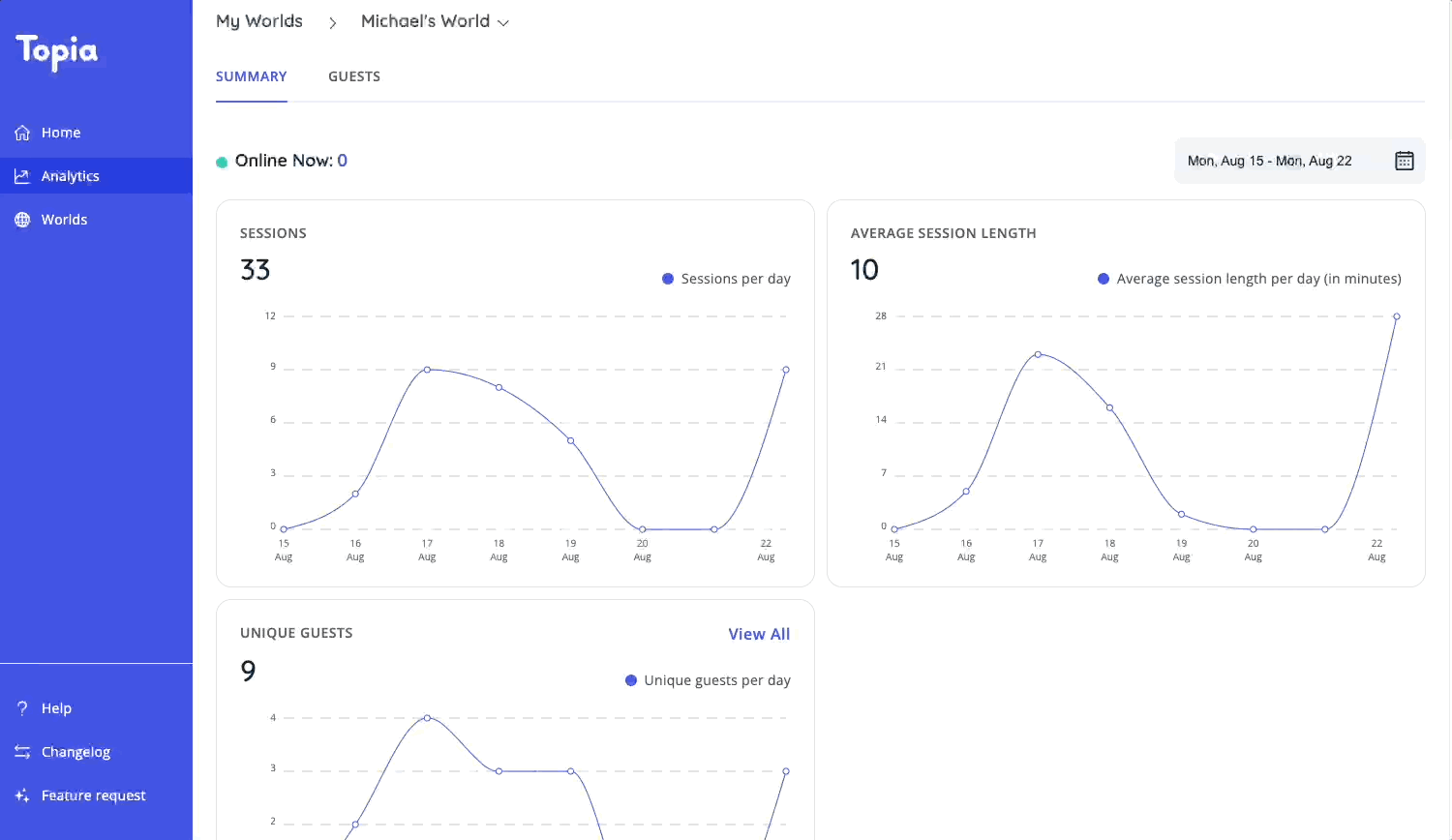 🤗 Refreshed "this page does not exist" content
If you get lost on Topia's site, don't worry. You're not alone (
enter: image of Topi on an island with a volleyball-like companion
), and there's now a button to get you straight back to your Dashboard.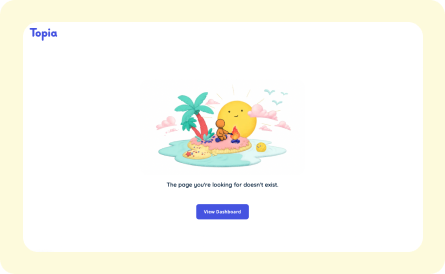 If you have feedback on how we can improve Topia, submit a new idea, vote, or comment on other ideas in our
Feature Requests Board
.